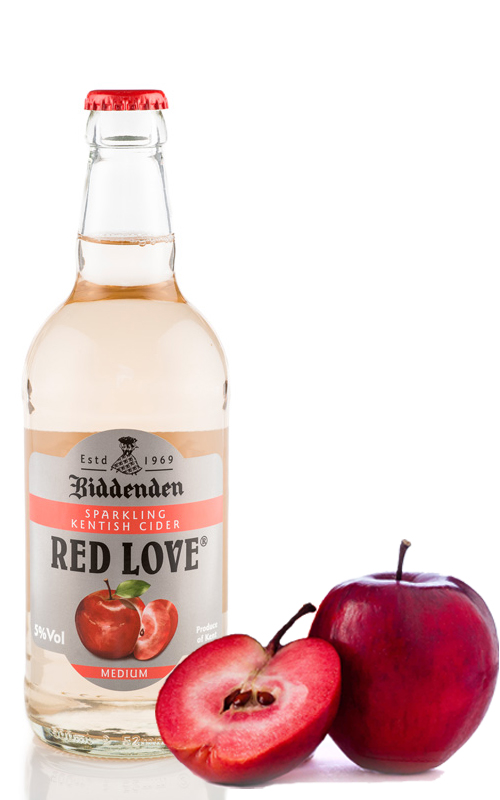 We're excited to announce the launch of the UK's first naturally coloured sparkling cider, Red Love®, which is available now in 500ml bottles across Kent, Sussex, and South East London, in time for the summer cider season.
Red Love® sparkling cider follows the launch of our first range of carbonated 500ml bottled ciders, Biddies, earlier this year. The medium, 5% ABV cider has a natural rosé blush and an intense, crisp apple flavour owing to the Red Love® variety which are naturally red skinned, red fleshed apples.
Julian Barnes, Managing Director at Biddenden, said: "We are proud to have been exclusively using the Red Love® apple since November 2015. The sparkling cider is set to be a successful addition to the Red Love® range which already includes a juice, in 1ltr and 250ml bottles, and a still bag in box cider."
The unique single-varietal cider is being exclusively produced in Kent by Biddenden, in conjunction with AG Thames, the only company with the rights to grow the variety in the UK for commercial purposes, and East Malling Research, where the trees are planted.
The Biddies range, including Red Love®, have been crafted following the traditional Barnes family recipe, which has been perfected at Biddenden for over 45 years, giving a truly refreshing appley experience and sensational true cider.
Red Love® is a Swiss variety which has been developed over the past 25 years by Markus Kobelt, founder of plant nursery and fruit growers Lubera. Mr Kobelt, who describes Red Love® as complex and interesting; a real taste sensation, has cross-pollinated a range of red-fleshed, sweet and disease resistant apple varieties to create a naturally red skinned, red fleshed apple with a crisp and long lasting taste.
Biddenden supplies a number of independent restaurants, pubs, hotels, farm shops, delis and retailers across Kent, Sussex, Surrey and South East London. It will also available from the vineyard shop and online.