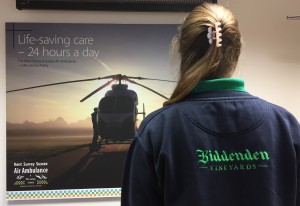 In preparation for our annual Taste the Best of Produced in Kent food day, a group of our office, shop, show and tour guides team visited the home of the Kent, Surrey and Sussex Air Ambulance Trust, Marden, to find out where the money we raise on the day goes to. Julie Clare, Head of Corporate Relations, talked the team through the lifesaving care the
air ambulance provides across the counties and explained how it would not be possible without our support and donations as they receive no government funding. The crew responds to 999 calls and, by operating from Marden, Kent and Redhill, Surrey, the helicopters between them can reach any part of Kent, Surrey or Sussex in under 25 minutes flying time. The Trust's highly skilled teams of Specialist Doctors and Critical Care Paramedics effectively bring the equivalent of an A&E department to the scene of an incident and can transport patients to the most appropriate specialist unit or nearest major hospital in a fraction of the time taken by land ambulance. It costs around £2,500 each time the air ambulance goes out to an emergency, so the £4,555.50 we raised last year has helped fund almost two potentially lifesaving trips.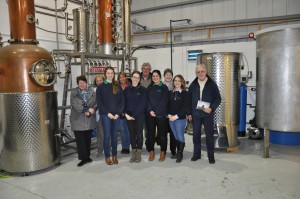 Afterwards, we took full advantage of being nearly next door to Anno Distillers, Kent's first gin distillery since the Maidstone Distillery was active in the late 1700s. The distillery is named after founders Andy (AN) and Norman (NO), who along with their cooper-pot still 'Patience', produce an award-winning Kent Dry Gin, as well as Sloe and Cranberry flavoured gins, an Elderflower vodka and a special 60% ABV gin called 60². Andy talked us through the process; in order to make the gin, neutral grain spirit is added to the copper pot along with traditional plant-based botanicals including juniper, coriander and cassia along with softened
Kentish water. The mixture is heated for several hours to release the distinctive flavours of the botanicals into the alcohol. This is then slowly distilled and the vapour containing flavours passes through into the botanical basket. It is in the botanicals basket where they add specially selected handpicked local Kentish botanicals and it is this fusion of flavours that is then passed through a rectification column, making the gin wonderfully smooth, before being cooled and transformed into Anno's Kent Dry Gin. At Anno all 20,000 1ltr bottles and 25,000 50ml bottled and packaged by hand, which is an outstanding effort from the team of 4! If you haven't tried Anno's gin before, we stock their full range in the vineyard shop.