We hosted the 12th annual "Taste the Best of Produced in Kent" on Sunday 10th June 2018 and are absolutely overwhelmed with the level of support we received.  The cars started flowing at 10.30am, before the event officially opened, and didn't stop! This meant our emergency car park had to be called on to take the extra visitor numbers – thank you to all for your patience & understanding.
More than double the number of people visited compared to last year, helping us to raise an amazing £5700 for Kent, Surrey & Sussex Air Ambulance – record breaking on all fronts.
We were lucky to have the perfect weather, not too hot & not too cold, which meant visitors were able to spend time enjoying Vineyard ploughman's lunches as well as food & drink from our stall holders.
46 stall holders were part of the event: Frogshole Farm, Kentish Mayde, Winterdale Cheesemakers, Goody Ales, Cafe 2u, Marsh Arts Collective, Cartridge Crafts, Wooden Spoon Preserves, Kent Life Heritage Farm Park, Stoned Pizza, Rochester Drinks, Bramble & Twine, Olives R Good 4 U, Whisk Bakery, Hinxden Farm Dairy, Beult House Bees, Produced In Kent, Dine Thyme, Hendricks of Hythe, Kent Turkeys, Zingiberi Bakery, Rent a Cherry Tree, Doughtys Butchers, Wild Spirits of Kent, Invicta Herbs, Godmersham Game, Jenni Rogers Jewellery, Romney Marsh Wools, Anno Distillers, Kent Crisps, Kentish Oils, St Apple Hurst Roast, Sugar & Spice, O'er The Moon, Kingcott Dairy, CPRE Kent, Potash Farm, Cheesemakers of Canterbury, Simply Ice Cream, Kent Collection, Dandelion Time, Kent Chilli Farm, Biddenden Bar, Clearly Juice and Kent, Surrey and Sussex Air Ambulance.
Julian Barnes, Managing Director, commented "We are blown away by the number of people who joined us to support the event & this very worthy cause this year.  We are passionate about the great array of produce Kent has to offer & feel very proud to have been able to provide a platform for visitors to meet & buy from some of the county's best producers whilst also helping to raise money for Kent, Surrey & Sussex Air Ambulance."
We would like to extend our thanks to all who took part & helped to make the event such a success and of course to everyone who visited, tasted & bought from the stallholders and made such generous donations to Kent, Surrey & Sussex Air Ambulance.
Julie Clare, Head of Corporate Relations, Kent, Surrey & Sussex Air Ambulance, said "It is wonderful to have the support of Biddenden Vineyards and their visitors. As an independent charity, we rely on donations and fundraising so every penny is truly valued. We are so pleased the event was another great success."
We look forward to seeing you all again next year (don't forget, the vineyard is also open to visitors daily throughout the year!), the date will be Sunday 9thJune 2019.
Photos from the day may be found on our Facebook page.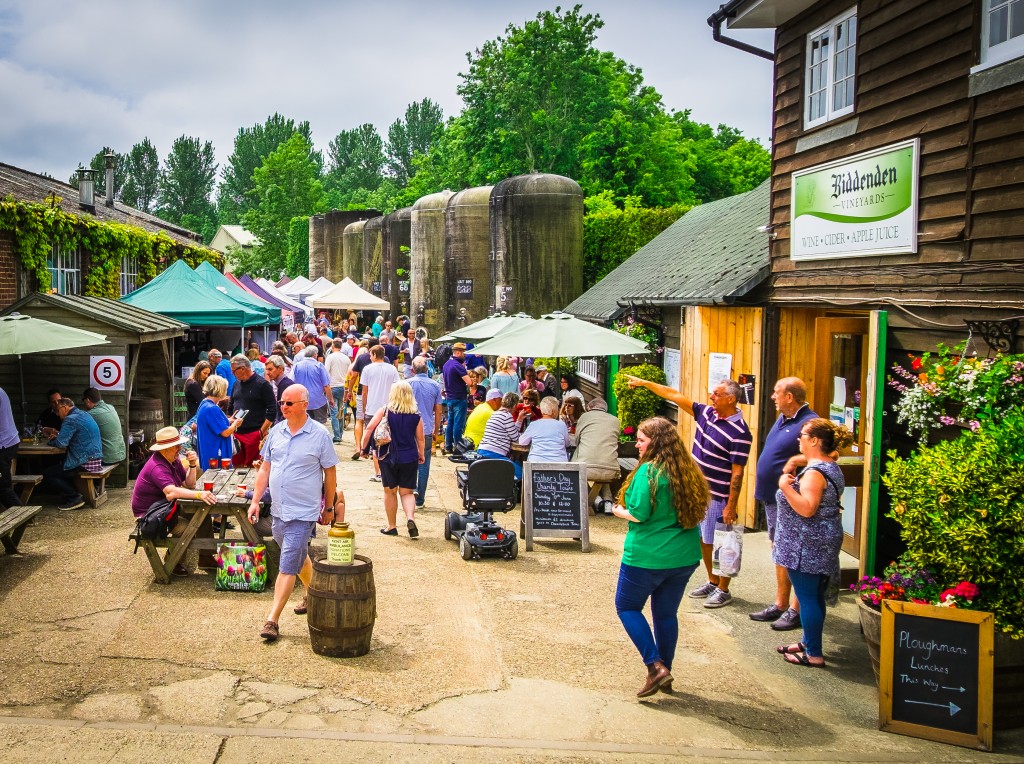 Photo Credit: David CL Photography