We are celebrating after our best ever Food Day in aid of the Kent, Surrey and Sussex Air Ambulance Trust. The 11th annual "Taste the Best of Produced in Kent" Food Day, which was held on Sunday 11 June at the vineyard, enjoyed spectacular weather and record breaking figures all round.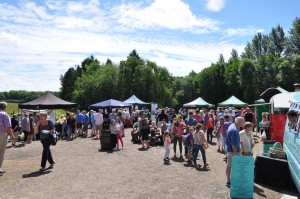 Over 1,900 visitors came to support 45 local produce stands, the most the event has ever seen, and helped to raise an unparalleled amount for charity. An impressive grand total of £5,642.24 was raised for the Kent, Surrey and Sussex Air Ambulance Trust from a combination of stall holders' fees and donations, visitors' donations, the Win a BMW raffle and the hamper raffle. Congratulations to Mrs Harker, Cranbrook, Eve Hart, Challock, and Carol Bruton and Pete Branson, Staplehurst, who were the lucky winners of the three hampers, which were filled to the brim with a wonderful selection of Kentish goodies all donated by stall holders.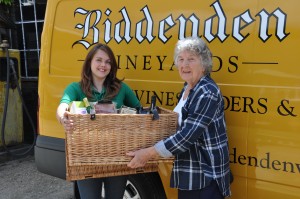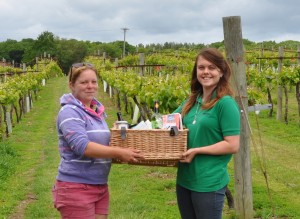 We would like to thank all the stall holders who attended including: Anno Distillers; Beult House Bees; Cheesemakers of Canterbury; Chives Caterers; Clearly Juice; CPRE; Creative Catering; Dandelion Time; Dine thyme; Enzo's Bakery; Farmhouse Kitchen; Godmersham Game; Goody Ales; Hendrick of Hythe; Hinxden Dairy; Invicta Herbs; Jenni Rogers; Kent Chilli Farm; Kent Collection; Kent Crisps; Kent Life; Kent Oils; Kent, Surrey, Sussex Air Ambulance Trust; Kentish Mayde; Kingcott Dairy; Marshmallow Heaven; O'er the Moon; Olives R Good 4 U; Paul Babra; Potash Farm; Produced in Kent; Rochester Drinks; Romney Marsh Wools; S.W. Doughty; Samovar Foods; Simply Ice Cream; St Applehurst Roast; Stoned Pizza; Sugar and Spice; The Only Way is Coffee; The Potato Shop; The Rare Breeds Centre; Wild At Heart; Wild Spirits of Kent; Winterdale Cheese; and Wooden Spoon.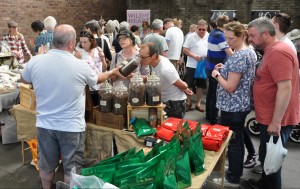 Sally Barnes, Director at Biddenden, commented: "This was certainly the most successful Food Day yet and we were extremely lucky to have a fly over from the air ambulance, really reminding visitors of the great cause we fundraise for. Thank you to all who came along and to the stall holders for their continued enthusiasm and donations towards the raffle. It is wonderful to be able to showcase such a fantastic range of Kentish produce and to see how many people are passionate about buying local."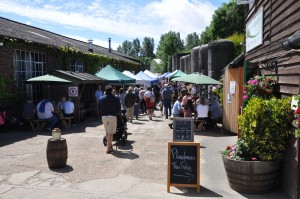 Julie Clare, Head of Corporate Relations, commented: "As a charity which relies almost entirely on public donations, we are enormously grateful to Biddenden Vineyards for their continued support over a number of years.
"Each mission undertaken by our crews costs about £2,500, so the amazing sum raised will help to fund two potentially life-saving missions."
Next year the annual food day will be held on Sunday 10 June 2018 from 11am till 4pm at the vineyards, Gribble Bridge Lane, Biddenden, TN27 8DF. Admission is free of charge.