We are delighted to unveil our brand new, state of the art belt press, which was installed last month in time for harvest 2016 to increase juice and cider making capabilities at our third generation family owned estate.
The Voran double belt press is capable of pressing 7,000 kg per hour with the twin belt system producing very high juice yields of up to 80%* and a rotary belt cleaning brush system for reduced water consumption. The press together with a bin tipper and mill, all supplied by Vigo Ltd, are the result of a quarter million pound investment into our cider and juice making facilities.
As well as catering for our own juice and cider production, which totals around 400,000 litres annually, we also carry out contract work for a number of juice and cider producers helping to elevate the quality and choice available in the local drinks sector.
Julian Barnes, Managing Director at Biddenden, comments: "We are impressed with the new press which is actually the first belt press of its kind in the whole country. It forms part of a long term investment plan for the juice and cider side of the business along with the installation of a new crossflow microfiltration system."
To hear the new press in action, why not catch up with BBC Radio Kent, who reported live from the vineyard on 13.10.2016. The recording can be found here http://www.bbc.co.uk/programmes/p048h1mb with clips at 1:54:00, 2:38:50 and 2:55:00. The recording will be available until Friday 11 November 2016.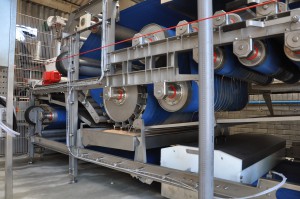 Admission to the vineyard is free of charge and anyone wishing to see the press is welcome to turn up from 10am till 5pm Monday to Friday, can book onto one of our Saturday morning free tours at 10am or for a more depth experience and personal experience can book a private guided tour.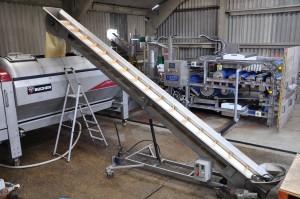 *Up to 80% yield depending on fruit type, variety and condition.