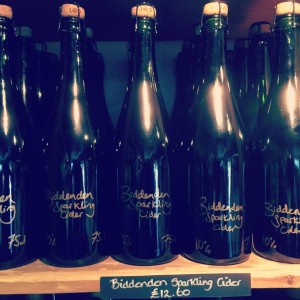 Back by popular demand, we have released a special batch of Biddenden traditional method Sparkling Cider.
The dry, fruity cider is produced from the Barnes' family recipe and undergoes a second in bottle fermentation to ensure all the bubbles are delicately absorbed into the cider giving an indulgent and lasting fizz.
Julian Barnes, managing director of Biddenden, comments: "Each bottle is individually hand-written and only 2,000 have been made in this batch. We are very excited to have it back in our range as it makes a great aperitif and has been exceptionally popular in the past as an ideal alternative to sparkling wines."
The cider, which is a delightfully light 10% ABV, is available on tasting in the vineyard shop, is out to trade and also available online here. For more information please phone 01580 291726.