We are excited to announce the launch of our first range of carbonated 500ml bottled ciders, which will be hitting fridges and shelves across Kent, Sussex, and South East London from Monday 3 April 2017, in time for Easter Bank Holiday.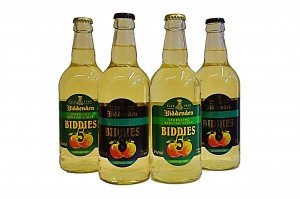 Biddies 5 and Biddies 8 have been crafted following the traditional Barnes family recipe, which has been perfected at Biddenden for over 45 years. The Biddies range, in keeping with all Biddenden's ciders, are created from culinary and dessert apples selected from Kent's finest orchards, giving a truly refreshing appley experience and sensational true cider.
Biddies 8 is an 8% medium dry cider with a gentle sparkle and an intense, long lasting, crisp apple flavour.
Julian Barnes, Managing Director at Biddenden, said: "The Biddies 8 is a tribute to our origins and has been loving created to celebrate the 'bygone years' of traditional cider production, with an alcohol by volume (ABV) to match. Biddenden is committed to producing the most refined, wine style ciders and the Biddies 8 is certainly an ideal alternative to a large glass of wine, great for pairing with food or enjoying chilled on its own."
Biddies 5 is a 5% medium dry cider with a gentle sparkle, leading on to juicy, crisp apple flavours with a beautifully long finish.
Julian continues: "The Biddies 5 is a refreshing, easy to drink cider, which provides a great introduction to our sparkling cider range. Whilst Biddenden is famous for its range of Strong Kentish Ciders, we have for the first time decided to develop a lower ABV alternative for those looking to enjoy a lighter cider."
Biddies 5 and Biddies 8 will be available from the vineyard shop and online from Monday 3 April 2017.