Our Festive Shop is now open daily right through to Christmas Eve, and is fully stocked with our award-winning wines, ciders & juices as well as packed with some of the very best local & artisan food & drink. There's also the option to fill one of our hampers or gift boxes with the contents of your choice from around the shop, providing a unique & personal gift. For those who can't make it to see us here at Biddenden, an extensive selection of gift boxes are available to order via our online shop for nationwide delivery, as well as our full Biddenden range of drinks.

There's plenty to choose from, including Monk's Delight spiced cider, refreshing juices & sparkling wines, sweet treats & savoury snacks as well as gifts to pamper, indulge & enjoy during the most wonderful time of the year! We've picked out a few of our favourites below, but be sure to pay us a visit to browse everything we have on the shop shelves…
Sparkling Ortega Demi-Sec 2018 – A demi-sec sparkling white wine which is floral to the nose with sweet green apple undertones. An excellent way to start Christmas Day with a little sparkle, serve alongside a cheeseboard or this wine will also pair perfectly with your Christmas pudding. Also available to order online here.
British & Kentish Cheeses – No festive feast is complete without a cheeseboard, and we've got a brilliant selection of both local and British cheeses, including Ashmore Truckles, Snowdonia's Truffle Trove, Kentish Blue and many more.
Savoury snacks – Perfect for drinks parties and essential to serve alongside the cheeseboard, our extensive selection of savoury snacks include The Captain's Crackers, Drinks Biscuits and cheese straws as well as Kent Crisps which also feature in our Savoury Treats Box.

Gin lovers – Kent is lucky to be home to some top class distilleries, and we have an extensive selection from local producers, including Anno Gin, Maidstone Distillery & Greensand Ridge. Alongside traditional gins, we also have sloe gin, toffee liqueur, whisky mac, ginger wine and rum, so whatever your favourite tipple, you're likely to find something you love!

Christmas Beers – Our beer shelf is full to the brim with beers and real ales from producers across the county, and we've added a few new Christmas beers for 2021, including Mad Cat's Santa Paws and Christmas Jumper along with The Godstone Brewers' Santa's Tipple.
Something Sweet – For those with a sweet tooth, there's plenty to choose from, whether it's deliciously moorish Goupie, Fudge Kitchens' luxury fudge, The Captain's Kentish Apple Biscuits or one of our fun Hot Chocolate Spoons from Cocoa Loco. And if you just can't choose, why not try one of our "Sweet Treats" Gift Boxes, available to order here.

Stocking Fillers – Great for foodie friends & family, there are lots of products available in miniature, ideal as stocking fillers or great for filling a gift box to the brim! Kentish Oils' 100ml Rapeseed Oil and Carrington's Chilli Oil is great for those who love cooking up something special in the kitchen, or try their Hot Hop BBQ-Chup for a burger or BBQ lover. Our Gingerbread snowman is a bit of fun for younger members of the family, whilst you can't go wrong with Goupie's Dips & Daps!
Accompaniments – Not forgetting all the little extras which add that something special to every meal. Cranberry Sauce with Biddenden Cider to accompany the turkey, Three Fruit Chutney & Cheeseboard Chutney for cold meats and, of course, the cheeseboard. Our Kent Pickled Walnuts are also great with cheese, or try in a nut roast to add extra flavour & texture for those looking for a vegetarian or vegan Christmas option. Not forgetting the Port & Lemon Marmalade, a real treat on toast or try as a glaze when roasting a gammon joint.

Not just food & drink! With our rich farming community here in Kent, we are always keen to support producers not just of edible delights but of other products too. Our friends at Castle Farm are famous for their lavender fields, making soap and 'sleepy scent' whilst Romney Marsh Wools produce toiletries using the lanolin in their sheep fleeces. Plus new for 2022 are Potash Farm's handmade scented candles, available in a choice of two scents – Coffee & Walnut and Vanilla & Walnut. If you're looking for something to send to friends or family further afield, then take a look at our beautiful Pamper Box.
Mulled Cider – Our very own Monk's Delight Cider is a delicious mulling cider, produced using our traditional cider blended with spices and honey. There's no need to add anything extra, simply pour into a saucepan, gently warm through and serve. Available in 1L bottles as well as 5L & 20L bag in box, great for keeping on the counter top.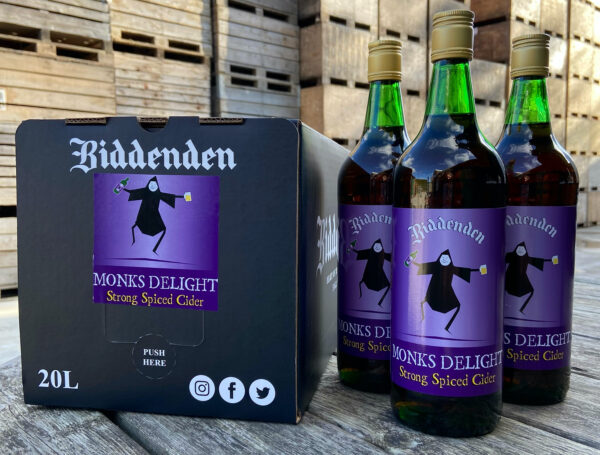 Our Festive Shop is open daily until Christmas Eve, and our full range is also available for home delivery via our online shop.

Monday – Friday: 9am – 5pm
Saturdays: 10am – 5pm
Sundays & Bank Holidays: 11am – 4pm
Christmas Eve: 10am – 12 noon

Find us at Biddenden Vineyards, Gribble Bridge Lane, Biddenden, Kent TN27 8DF