The event, held on Wednesday 15th May by Kent MPs in the Houses of Parliament, invited 15 local Kent producers, including Biddenden Vineyards – alongside organisations Visit Kent and Produced in Kent– to showcase their local produce at Westminster from 10:30am until 3:30pm. Featured food ranged from honey, cheese and jam to chutney and strawberries, and drinks included cider, ale, wine and local Kentish apple juice.
Whilst the Prime Minister was unable to personally attend on the day, he sent his apologies to Kent MPs and provided the following message of support:
"I am delighted that Kent's producers have come to Parliament today to showcase some of their high-quality local produce. I am sorry that prior commitments abroad mean that I am unable to join you today – I was particularly looking forward to being able to sample the honey brought to London by the Dartford Beekeepers, which I'm told is truly delicious!  I am sure that today's event will offer an opportunity to celebrate Kent's fantastically diverse agricultural sector and will, I hope, promote the county's producers as they continue to flourish. I wish all those producers who have travelled to London to showcase their produce – and all involved – my very best wishes for an enjoyable and successful day."
A number of other esteemed guests were came to show their support for the event, including Justice Minister (and Kent MP) Helen Grant, Minister for Agriculture and Food David Heath, the Head of Catering at the House of Commons, and the key architect behind the plans for the Swanscombe Peninsula Theme Park, Tony Sefton.

Below: David Heath, Minister for Agriculture and Food, with Biddenden Vineyards.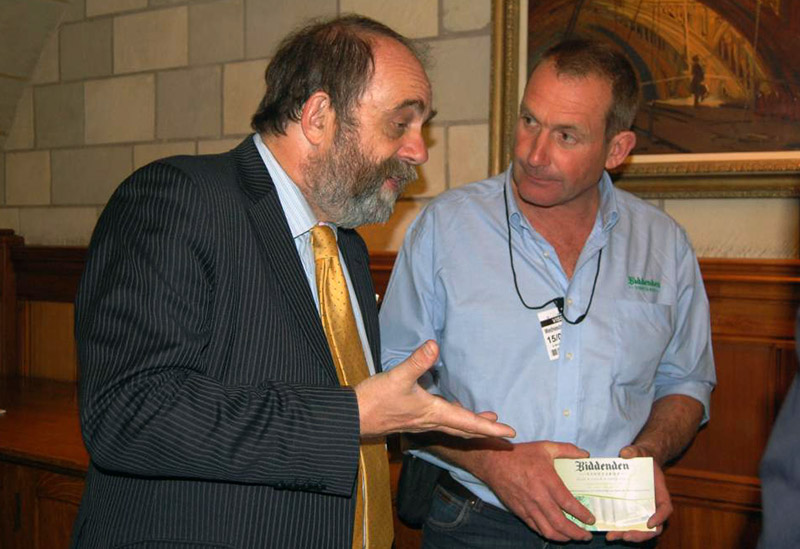 Gareth Johnson commented that;
"I was delighted and proud to see the wonderful selection of local produce that Kent showcased to Parliament. The event demonstrated to MPs and Ministers what a diverse county Kent is, and the strength of local producers in the area made it a very successful day. I am told that over 1000 people attended the event, with S W Doughty Butchers shifting over 1200 different samples of their produce in just over 3 hours!
I was particularly pleased to meet with the Dartford Beekeepers. For over 75 years they have continued to produce top quality honey in Dartford. As their local MP it was wonderful to see the positive reaction of all the guests to their honey."
Amanda Cottrell, Chairman of Visit Kent, said: 
"We would like to thank the Kent MPs for giving us the opportunity to show off all that is wonderful about Kent and its produce, especially our new Kent Breakfast initiative. The sheer volume of visitors over the course of the day surprised and delighted us all, as did all the positive comments we received. It was a day to make us all proud of our county and the wonderful food and drink that can be found here."