Summer must be round the corner as we excitedly announce the return of our free Wednesday morning tour from 10am till 11am!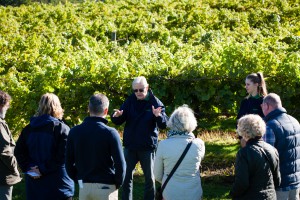 Running on Wednesdays from June to September only, the mid-week free tour is a perfect introduction to how English still and sparkling wines, ciders and juices are produced; and as we're a working farm will give visitors the chance to see what goes on 'behind the scenes'.
After arriving at the vineyard for 9.45am for a complimentary cup of tea or coffee, the tour will begin at 10am and will last around 1 hour. The guide will take the group around the vines, into the winery and then back into the vineyard shop for tastings of the full range of products.
Sally Barnes, Director at Biddenden, said: "All Biddenden's wines are estate grown and bottled so visitors will get to experience where the grape to glass processes takes place and can see the vines at different stages depending on the time of year. This means that there is always something new to see, so for those who visit our annual food day or Christmas shop coming for a tour in May will give you an opportunity to see the vineyard in a completely different light." 
Free tour visitors are invited to make a small donation at the end of their visit to Biddenden's chosen charity of the year, The Royal Agricultural Benevolent Institution (R.A.B.I.), a welfare charity which helps farming families in financial difficulty.
The free tours are for individuals, families and friends and pre-booking is essential. To book please call the vineyard on 01580 291726 to check availability.