Children's Bank Holiday Juice Tasting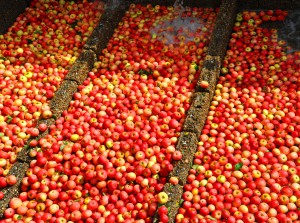 This late May Bank Holiday Biddenden is excited to be offering a special juice tasting specifically aimed at children, giving them the opportunity try and compare 7 different apple and 2 different pear juice varieties all with ranging levels of sweetness.
The juice tastings, which will coincide with the relaunch of the Clearly Juice range, will be available on Saturday 28 May, 10am till 5pm and Sunday 29 May and Bank Holiday Monday from 11am till 5pm at the vineyards, Gribble Bridge Lane, Biddenden, TN27 8DF.
Julian Barnes, Managing Director at Biddenden, said: "Working with small family farms we have created a range of blended and single varietal juices. Each juice is clear and has its own distinctive style, with named varieties accompanied by a Master of Wine's comment. The juice tasting is a great opportunity for children to test their taste buds and also learn about how apple juice is made."
Admission and tastings at the vineyard are free of charge, but families looking for a more in depth day out and a chance for children to learn about how juice is made to see where it is pressed and bottled private guided tours can be booked. On the tour your guide will delve further into the history of the vineyard and can concentrate on any specific areas of interest you may have, to give you a more personal insight into all the goings on at the vineyard. This is followed by the juice tastings, wine and cider also available for adults, and a glass of your choice will then be served. Private tour visitors can also enjoy a sharing platter, which includes a selection of local cheeses, salamis, crackers, olives and chutney for £6.70 extra per person.
For more information on the juice tasting or to book a private guided tour please call the vineyard on 01580 291726.